Data integrity empowers your businesses to make fast, confident decisions based on data that is trusted to have maximum accuracy, consistency, and context
Start your data integrity journey
We know your business struggles to trust its data for decision-making. And the demand for data integrity – data with accuracy, consistency, and the essential element of context – is a business imperative. This demand is increasingly urgent as the mandate for data-driven decisions and machine learning (ML) projects is only accelerating.
Business and IT teams are working more closely than ever to improve data integrity so you can better serve your customers and gain a competitive edge. But there are many steps on the path to data integrity, and you need solutions that give you the freedom to choose your next move.
The modular Precisely Data Integrity Suite delivers value at every step of the data integrity journey. Its proven, trusted data integration, data quality, location intelligence, and data enrichment capabilities deploy easily and seamlessly into your existing infrastructure. Let's get started together on your journey to data integrity today.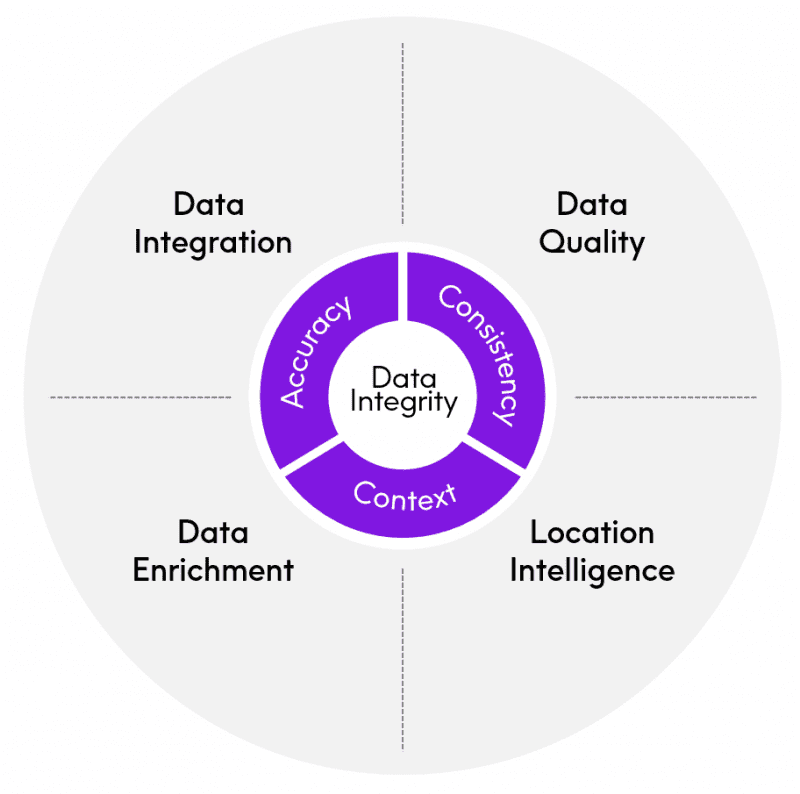 Maximum accuracy and consistency
Your business has come to see accuracy and consistency as the foundation of data integrity. The Precisely Data Integrity Suite helps you tackle the work that remains in these areas through high-performance data integration and robust data quality.
The suite's data integration capabilities break down data silos and ensure data stays fresh for both IT operations and business insights. It integrates data from a wide range of sources, even complex mainframe and IBM i data, with next-generation on-premises and cloud data platforms. And it offers a full range of integration methods – from batch to real-time change data capture.
The suite's data quality capabilities automate the challenging process of accurately standardizing, verifying, and validating your data. And context graphs enable you to understand your data by visualizing the hidden relationships, trends, and patterns that are otherwise very hard to identify. And it can all be done at scale.
The essential element of context
In addition to accuracy and consistency, businesses now recognize that the pivotal dimension of context it what gives their data integrity and sets them apart from the competition. Through industry-leading location intelligence and data enrichment, the Precisely Data Integrity Suite adds the context that fuels business processes with actionable insight.
The suite's location intelligence capabilities provide hyper-accurate location insight by organizing, geo-enriching, and visualizing location data with unmatched performance and scale. The PreciselyID, a unique and persistent identifier that is pre-associated with addresses, also opens a world of possibilities for data enrichment.
The suite offers over 400 up-to-date, curated business, location, and consumer datasets, with over 9,000 attributes, that can enrich your data and make it more valuable and complete. Take advantage of data for streets, addresses, boundaries, points of interest, demographics, and more to give context to your decision-making, downstream analytics, and ML projects.
Value at every step
As your business takes its journey to data integrity, you want to choose best-in-class solutions, when and where you need them. That's why the Precisely Data Integrity Suite is modular and interoperable – with no need for a heavy, costly platform investment.
The suite adds value at every step with data integration, data quality, location intelligence, and data enrichment. You choose the modules that meet your requirements and deploy them easily and seamlessly. When it's time to expand your investment or test new technologies, the suite's interoperable capabilities can scale with your needs.
The suite is also designed to partner and build. Our certified integrations and strategic relationships with other market-leaders ensure more than just coexistence, but technical integration with the data technology your business runs on today. And APIs enable your team to build on the strengths of the suite and develop new solutions to your unique data challenges.